La 24 ore di Anversa 2001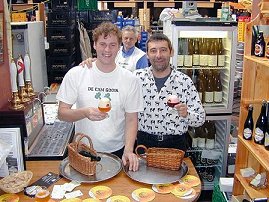 I HAVE BEEN THERE
Unionbirrai news year 3, n.5 february 2002
There's a rendezvous that a serious fond of Belgian beer can't miss at all. I've been there for three consecutive years and I've never been disapponted!
I am (obviously) talking about "The 24 hours of belgian special beer", which takes place every autumn in Antwerp, a beautiful Flemish harbour town,.
This happening, that cannot be given up, has been created 14 years ago by the OBP (De Objectieve Bierproevers), association that furthers the progress of the beer-culture in Belgium. (www.obp.be)
This festival has been held during the first weekend of November, and for the first time in the memorable "Oude Handelsbeurse" (Old Stock Exchange) instead of the traditional "Stadtfestzaal" (Municipal Hall for Festivals), destroyed after an awful fire happened last December.
The atmosphere was great, as usual: the austere hall has been pacifically invaded by a huge crowd made of Belgian and European beer-lovers.
I met lot of friends, British and Dutch above all, but also Danish and Swedish, and some arrived from the US and Canada.
Walking from pavillon to pavillon, meeting "great" Flemish and Walloon brewmasters, discovering and tasting calmly lots of different beers never tasted before (at least in the unusual draught version) is an exciting and at the same time instructive experience.
More than 40 breweries, more than 140 beers: a great show made of colors, fragrances and flavours. Every main Belgian stile of beer were greately represented: old bruin, traditional lambic, blanche, saison, trappist and so on, not to talk about the large number of beers you cannot put in a well-defined stlye.
Can another country give us this range of different sensations?
We drunk all kind of beer: the sweet Ultramour d'Ecaussines, the bitter XX Bitter by De Ranke and the sour Oude Gueze by De Cam, Boon and Drie Fonteinen. I received some questions from the beer-lover group of the web site www.hobbybirra.it regarding the beers I preferred. To be honest, the general level of the beers I tasted was very good, but I like more the beers made by (in alphabetical order) Boelens, De Leyerth, Géants, Paeleman, De Regenboog and Verhaeghe (apart from the ones I mentioned above).
If you want to see how the great atmoshpere was, you can have a look at my reportage
(

www.atuttabirra.com/24oreanversa.htm

), put on the web by Vittorio Panzeri. The beautiful photos you'll see are made by Enrico Pastori.